Safdarjung Hospital
This blog is dedicated to MCD, NDMC, Mr. Arvind Kejriwal & Mr. Narendra Modi. Do you like eating in government hospital canteen? How about having Maggie from a shop there or is it the streetside hawker that interests you? How simple it appears but in actuality, it is quite complex. This is something which may force a person to commit suicide. In my last blog, "Me & The Reality of Society – The Harsh Truth" Part 2, I shared a real life incident of a shopkeeper running a shop in a government hospital.
Today I have come up with a story of the another shopkeeper so that you know what exactly happens in your society. I hope this reaches to Delhi Chief Minister, Mr. Arvind Kejriwal & our Prime Minister, Mr. Narendra Modi.
We all think that the life of a street hawker is not easy rather it is difficult and full of hardships. He has a very small capital and he doesn't earn much. He has to work all day long, standing in heat, cold, dust and dirt. Even I used to think the same but one incident changed my perception.
Police, MCD, NDMC and Safdarjung Hospital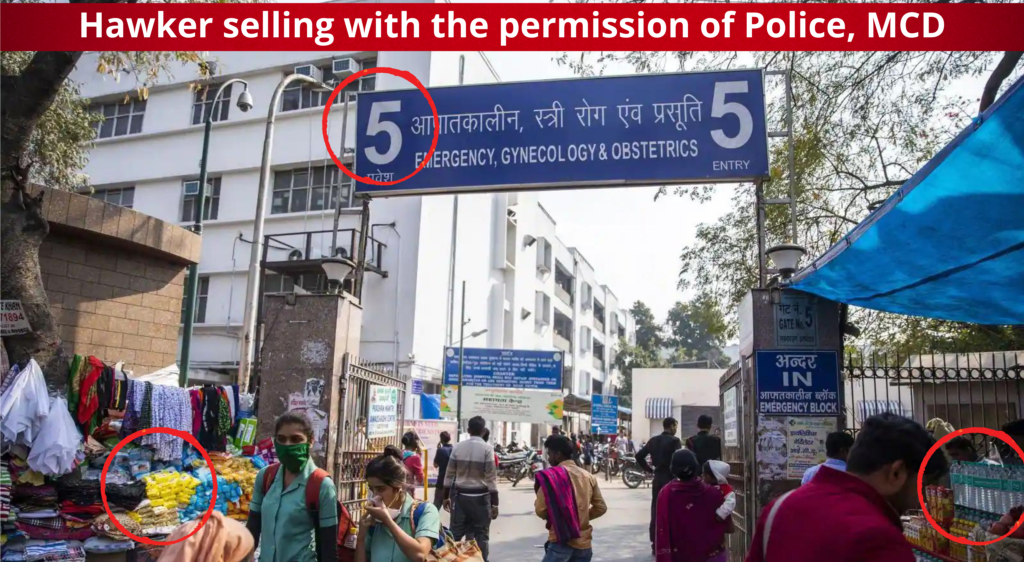 If you get a chance, take a tour of one of the top-notch hospitals in India, Safdarjung hospital. You will find bunch of hawkers or StreetSide vendors occupying its area from new emergency to gate number 7 as well as around gate number 2. Often these vendors engage themselves in selling snacks, beverages, other food items, clothes etc. with the help of MCD, NDMC as per the police officials.
Therefore, they block the main gates because of which it gets terribly difficult for the ambulance and the patients to enter the hospital. The street vendors and hawkers easily trespass on the hospital boundaries by cutting down the grills to sell their items. An obvious question arises that who allowed them to break hospital boundaries?
Is it the police department, MCD, NDMC or hospital authority supporting in illegal deeds?
Delhi Street Hawkers
If I explain about hygiene, the standards are very poor. There is physical, biological and/or chemical contamination in food. They are not in the habit of washing their hands and covering their face and hands with mask and gloves. Hawkers use contaminated public toilet water for tea or food preparations and serve in poorly cleaned utensils.
They wash utensils in public toilets and even spit in and around hospital facilities.The authorities like FSSAI or Health Department are turning a blind eye to this issue. The vendors do not cover their food items which attract flies and germs giving rise to infinite health problems such as diarrhoea.
No proper arrangements are made for the waste disposal! General public after eating or having tea throw wrappers or disposables wherever they want. Though licensed shopkeepers keep their dustbins near their shops, either people don't use them or even if they do, it becomes the liability of these shopkeepers to clean them. Do you think it's fair?
Intoxicating Materials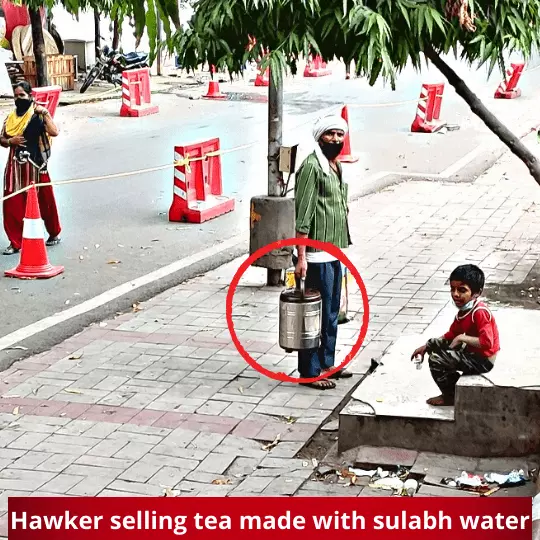 Such street vendors use sub-standard oil and butter to make food. The dust and smoke released by vehicles make roads the worst place to sell food. The cut and uncovered food is easily attacked by micro-organisms and insects which spread diseases. Before preparing the food, they don't wash their hands.
Hawkers sell harmful intoxicating products inside the hospital premises such as tobacco along with expiry food material. Authorities like Police, MCD, NDMC and Hospital officials put blame on each other in order to skip the questions asked. Hawkers are good at bribing above departments and that is why they are not scared of anyone.
Once there was a tea seller who started selling his tea inside the hospital to the wards. The shopkeeper went to him and told him to get out of the premises but he didn't. In fact hawker asked him to call the police and he did. Later the policeman told shopkeeper to not disturb the hawker. This shows there is no limit of corruption.
The Rise of Greed
Earlier during national holidays such as 26th January or 15th August, you would never find even a single hawker doing his or her business on the boundaries of Safdarjung hospital. But nowadays due to the rise in greed of various authorities like Police, MCD, NDMC, Hospital officials, they let vendors freely sell their items as such authorities are avaricious and will do anything for money.
The disastrous thing is when the whole world is suffering from coronavirus and its variant omicron, these street vendors and hawkers are selling their items 24*7. They are responsible for unsafe and unhygienic environment specially at the time of Covid. If you ask them that how do they manage, they will tell you whole story of bribing officials inside the hospital including police.
That's the reason these hawkers are not scared of anyone. When it continues, it leads to hooliganism and violence. There are instances where hawkers fight with each other in order to grab the customers.
Hawker FSSAI Registration
This ruins the hospital atmosphere thereby creating nuisance in and out which sometimes becomes the reason to block the pathway of ambulance or patients. At night, they often get drunk, crack dirty jokes and it feels unsafe as they head towards patients leaving them with a sense of fear and insecurity even in the hospital premises. It is a threat to the patients as well the attendants in every possible way.
A particular area should be assigned to vendors where a plaque displaying FSSAI certificate should be put up. The government in turn can generate good revenue out of it which the other authorities & officials are generating illegally these days. The chances of hooliganism and threat will certainly decrease.
Being a true citizen of my country, I perform my duties on time. I always send mails and make complaints of whatever wickedness happen in our society. We vote and it is our right to raise our voice against malpractices. Are you with me in this mission?
Mr. Narendra Modi & Mr. Arvind Kejriwal
I humbly request honorable Chief Minister, Mr. Arvind Kejriwal and our respectable Prime Minister, Mr. Narendra Modi that it is the responsibility of your department to take serious steps against the corruption. The illegal selling of the products and other activities of the local unauthorized vendors/hawkers is making the top notch hospital premises unsafe and unhygienic specially at the time of Covid 19.
Disclaimer:
This article or blog is created on the basis of real life experience. Dr. Priyanka Jain (PT) w.r.t. http://www.drjainpriyanka.com has not done this to defame anyone. Here she has just tried to express her views.