Best Personal Trainer Certification in India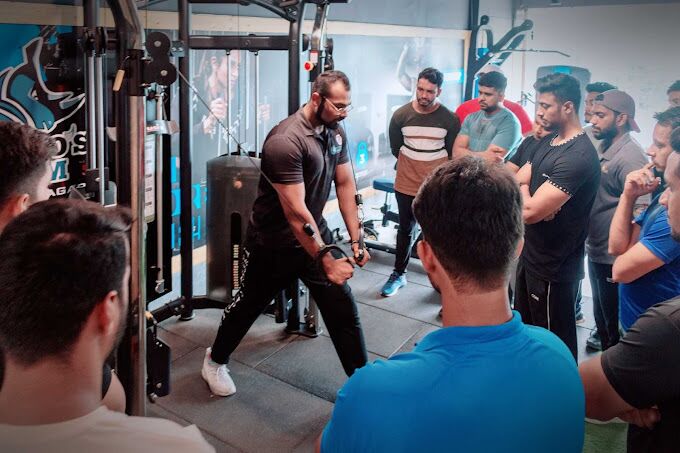 In my previous blogs such as "Physical Fitness" and "How to perform Squats Correctly", I gave you an idea about the exercise importance along with nutrition. Let me enlighten your knowledge regarding Certified Personal Trainer course i.e. ISSA & NASM Personal Trainer Courses through which you can start building up exercise regimen for the general as well as sports persons. Fitness Cravers Academy (FCA) in Delhi has an association with International Sports Sciences Association (ISSA) and National Academy of Sports Medicine (NASM). Let's have an overview of Best Personal Trainer Certification in India.
These are organizations that offer education and certification for fitness trainers, coaches, nutritionists, and medical professionals. FCA is exclusive partner of ISSA and NASM in India. Its headquarter is in Delhi, Saket.
Individuals who are passionate about fitness and who even don't have any science background, they all can join ISSA and NASM Personal Trainer courses in Fitness Cravers Academy (FCA). Some of the examples of other courses include Certification in Personal Training (CPT), Masters in Personal Training (MPT), Certification in Sports Nutrition (CSN), Certification in Corrective Exercise Techniques (CES) etc.
ISSA & NASM Personal Trainer Certification Course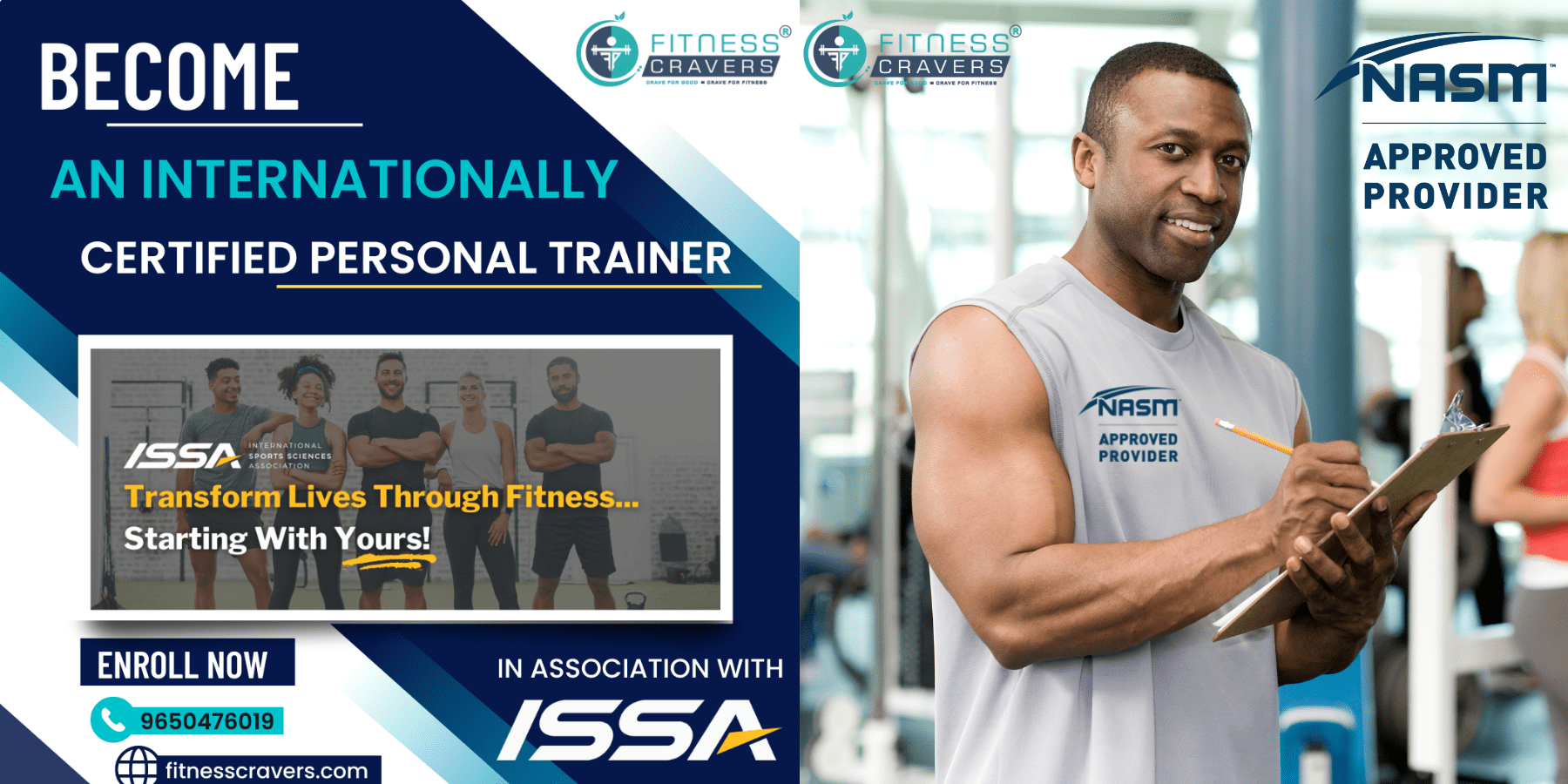 ISSA is world's ranked #1, USA based organization founded in 1988. It has National Commission for Certifying Agencies (NCCA) accredited Exam and It is also recognized by the European Register of Exercise Professionals (EREPS) , REPS UAE, the Distance Education and Training Council (DETC), National Board Of Fitness Examiners (NBFE), California Association of Private Post secondary Schools (CAPPS), New York Chiropractic College (NYCC) and Better Business Bureau (BBB) whereas for over 35 years, the National Academy of Sports Medicine® (NASM®) has earned its reputation as the gold standard in fitness education.
The NASM-CPT personal training certification owns accreditation by the National Commission for Certifying Agencies (NCCA). NCCA is a nationally recognized third party agency that accredits certification programs which are able to meet and comply with its standards.
How to become a Certified Personal Trainer
If you join ISSA- CPT or NASM- CPT Program, you'll gain in-depth knowledge of human body so that you can create a perfect exercise regimen for your clients. You'll be an expert in assessing and building custom training programs and helping clients to get stronger with less pain or injury. This course will even help you to start and grow a profitable training business.
Study of Personal Training or Fitness Training includes Kinesiology, Biomechanics, Nutrition, Anatomy and more. You will get ISSA Certification in Personal Training (self study) Program at a very affordable price i.e INR 47,300 all inclusive for online course and INR 73,380 all inclusive for offline program at Fitness Cravers Academy and this is including examination fee of ISSA. In NASM, Certification in Personal Training Program is INR 38, 000 all inclusive for online course and INR 63,000 all inclusive for offline program.
Once you pass the exam, you are qualified to offer your fitness training services . Maintaining your certification with continued education is a requirement of ISSA and NASM just like the other International programs. Continuing Education Units (CEUs) will add additional costs throughout your career.
International Personal Trainer Course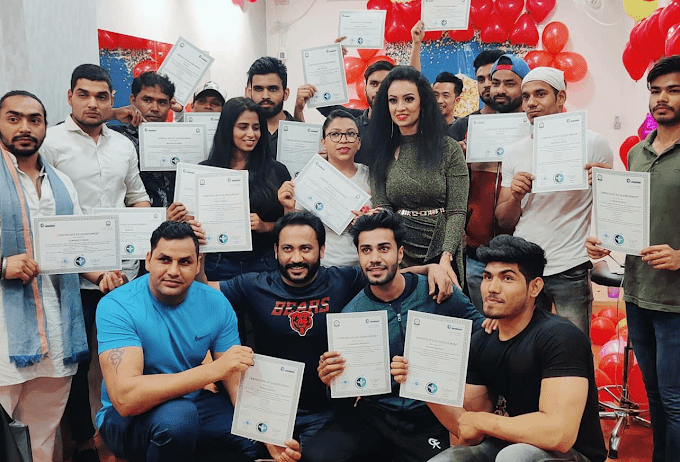 There are certain key points that you must remember while preparing for ISSA and NASM examinations:
Recertification is every 2 years.
Recertification CEUs is of 20 hours.
Recertification Cost is Free with ISSA CEUs
NASM & ISSA Personal Trainer Course kit includes:
Complete Online/Offline Course Material
High End Audio and Video Lectures
Practical or Exercise Lab
Practice Exams and Section Quizzes
Online Student Forum
Online Certification Exam
100% Placement Assistance
Unlimited Educational Support with on-staff professors
There are people who do not have an interest in pursuing an International Certification Program. If someone already has an International Certification then FCA USP programs are good options. To give examples, Master Personal Trainer and Sports Nutrition Courses at the cost of INR 35,400 all inclusive. They can avail the same quality services along with guaranteed 100% placement assistance with FCA Courses.
Why Fitness Cravers Academy ?
Without a doubt, it is worth doing ISSA or NASM courses from Fitness Cravers Academy. The basic need and right of a student is to be taught by the top notch faculty with excellent study material. FCA faculty is trained exclusively by ISSA and NASM to maintain the quality. It has an authorization to provide ISSA and NASM courses offline. FCA has exclusive association with ISSA and NASM in India. This information will save you from the false trap of other institutions claiming to provide fitness courses.
What student will learn
How to motivate anyone to make their fitness goals a reality
In-depth knowledge of the body's muscle and skeletal structure
How to assess and build custom training programs
How to help clients get stronger with less pain or injury
How to pinpoint what exercise is most effective for each movement
Details of how diet and exercise work together to transform people's lives
The deeper answers to help go beyond "workout more" and "eat better"
Career Opportunities
Work with different branded gyms, wellness centers, hotels, hospitals, schools, universities etc.
Earn as an Online Personal Trainer
Apply as a Fitness lecturer
Own your own Gym
You must visit and feel the difference at Fitness Cravers Academy, Saket Delhi. Have a look at the infrastructure and the quality of education being provided. Book your demo class ASAP to know more about the Best Personal Trainer Certification in India!